We've just deployed a new version that lets you easily add various criteria like Subject, To, From, and Date to your searches. You can also limit the search to the current folder.
Click the

button at the right-hand side of the search bar, and the following options will pop up: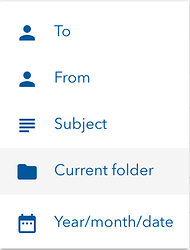 Each of these will add an example search option to the search field, which you can then edit as desired.
– Geir