Hi There !
I discovered something a weird with Runbox7, let me show:
From left to right:
Thunderbird / Runbox "classic" / Runbox 7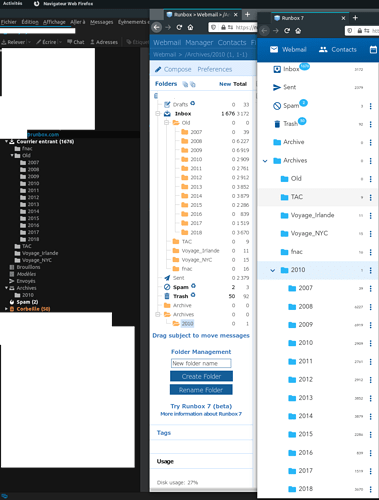 1/ For some reason, subfolders from inbox are moved in Archives ?
2/ Subfolders from inbox/old/… are moved in Archives/2010/…
3/ "Archives" was created by Thunderbird…I wanted to test the archive function.
for some reason, I'm not able to see "Archive" (without 's') in Thunderbird?
For this thunderbird test, I only archived a single email from 2010 (so thunderbird created Archives/2010).
4/ Before Thunderbird created "Archives", my inbox subfolders were visible in RB7 in Archive folder
For example Archive/old.
But subfolders from "old" was not visible…